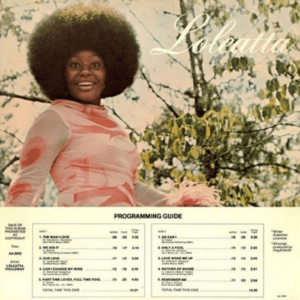 Loleatta Holloway's highest charting solo record was a soulful ballad, "Cry to Me." Born in Chicago in 1946, Holloway developed her throaty, full-bodied vocal style and dramatic presentation while singing with her mother in the gospel group, the Holloway Community Singers.
In the early '70s,she met her future producer, manager, and husband, Floyd Smith. Smith produced a cover of Gene Chandler's 1963/1965 hit "Rainbow '71" for his Apache label. Loleatta Holloway signed with Aware Records in 1973. The double-sided hit "Our Love" (#43 R&B)/"Mother of Shame" (#63 R&B) charted during the summer of 1973. The tunes were included on her debut album, Loleatta (1973).
"Cry to Me," the title track of her second album, gave Holloway her highest charting solo single on the R&B and pop charts; written by master songwriter Sam Dees, it hit number ten R&B in early 1975.